Sumang Walk, Singapore
For Sale
- Executive Condominium (EC)
Price Chart & Availability
Last Updated: 30th September 2023
| Project | Type | Avg PSF ($) | Lo Price ($) | Hi Price ($) | Availability |
| --- | --- | --- | --- | --- | --- |
| PIERMONT GRAND | 3 BR | 1,113 | 888,000 | 1,060,000 | 183 |
| PIERMONT GRAND | 3 BR DELUXE | 1,058 | 1,001,600 | 1,001,600 | 1 |
| PIERMONT GRAND | 3 BR DELIXE PENTHOSE | | | | 0 |
| PIERMONT GRAND | 3 BR PENTHOUSE | 1,015 | 995,200 | 1,112,800 | 10 |
| PIERMONT GRAND | 3 BR PREMIUM | 1,027 | 1,138,400 | 1,171,200 | 4 |
| PIERMONT GRAND | 3 BR PREMIUM PENTHOUSE | | | | 0 |
| PIERMONT GRAND | 3 BR SUPERIOR | 1,040 | 975,200 | 1,060,000 | 30 |
| PIERMONT GRAND | 3 BR SUPERIOR PENTHOUSE | | | | 0 |
| PIERMONT GRAND | 4 BR PREMIUM | 1,070 | 1,340,000 | 1,574,400 | 110 |
| PIERMONT GRAND | 4 BR PREMIUM PENTHOUSE | 976 | 1,456,800 | 1,587,200 | 7 |
| PIERMONT GRAND | 5 BR PREMIUM | 1,072 | 1,513,600 | 1,668,000 | 62 |
| PIERMONT GRAND | 5 BR PREMIUM PENTHOUSE | 998 | 1,649,600 | 1,712,800 | 2 |

Project Details
Project Name: Piermont Grand EC
Developer: CDL Constellation Pte Ltd and TID Residential
Address: Sumang Walk
District: D19 Hougang / Punggol / Sengkang
Property Type: Executive Condominium
Tenure: 99 years
Total Units: ~820
Unit Mix (to-be-confirmed): 3-bedroom, 4-bedroom, 5-bedroom
Estimated TOP: 2022 – 2023




About Piermont Grand EC
Piermont Grand is an Executive Condominium, located at Sumang Walk, Punggol. It will comprise 13 blocks of 820 units, with a mixture of 3 to 5 bedrooms, perfect for families of all sizes.
Residents of Piermont Grand EC will have a sense of connectivity to the green and serene environment, as well being intertwined between the beautiful waterways of Punggol. This Punggol EC is within close proximity to My Waterway @ Punggol Park, as well as the Punggol reservoir. Using Google Maps, you will be able to notice that it is also a mere 2-3 minutes drive from the new and exciting shopping mall, Waterway Point.
What's at Waterway Point?
Waterway Point is a large and exciting shopping mall at the heart of Punggol Central, with lots of premium F&B establishments, retail shops, a cinema and even a large 24-hour premium supermarket. It is also easily connected to Punggol MRT and bus interchange. Waterway Point is managed by Frasers Centerpoint, and the building itself has a seamless indoor-outdoor design and concept.




How Does the Environment Around Piermont Grand Feel Like?
Piermont Grand has one of the most natural and lush environments in its proximity of all the ECs in Singapore. At this point, many of the other ECs are located within other buildings, flats and some even right beside industrial offices. Piermont Grand has a beautiful accessible waterway running along its side, with well maintained footpaths, away from roads and cars, perfect for an evening jog or stroll. With just a minutes walk, you will be greeted by the serene view of the Punggol Reservoir as well.
How Accessible is Piermont Grand?
Apart from bus stops along the main roads, Piermont Grand EC is also located at a walking distance between 2 LRT stations, Sumang and Nibong, which connects you straight to Punggol MRT, making traveling around the island a breeze.
Drivers will also have quick and access to TPE which conveniently connects you to areas in the North, East and Central.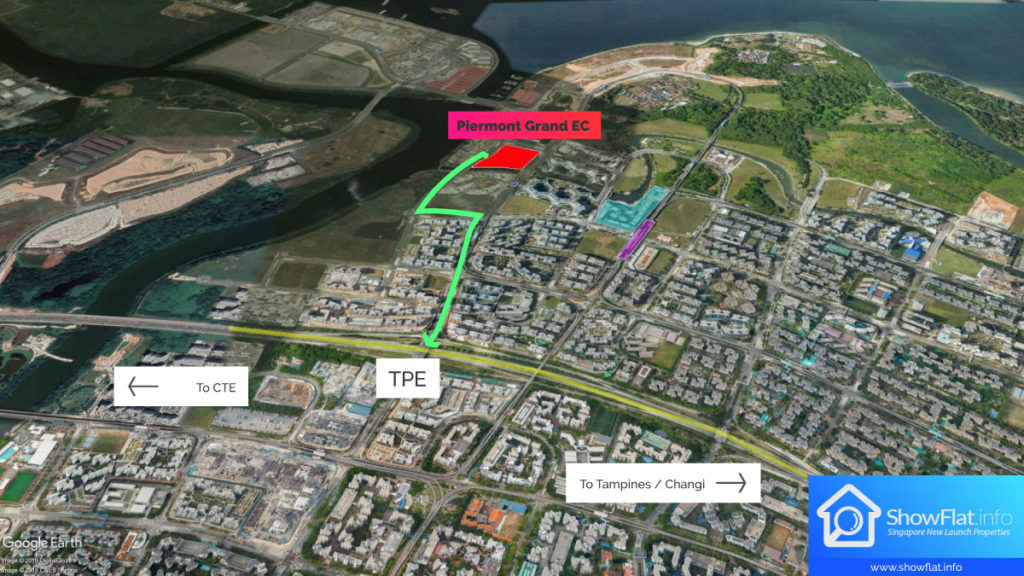 Piermont Grand EC Site Plan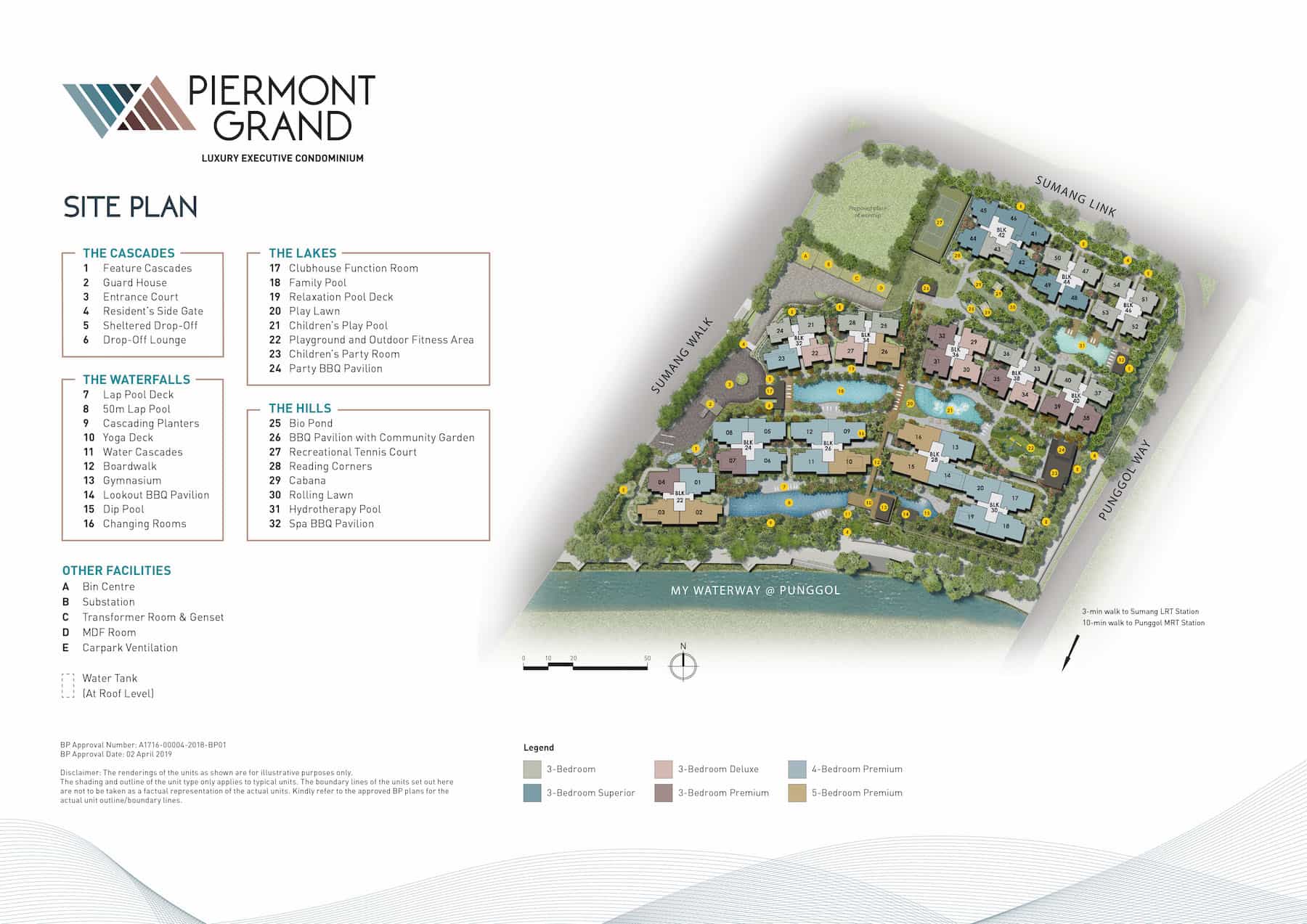 EC as Your Next Home
Piermont Grand EC will pique the interests of both HDB upgraders and even first-time homeowners. This is because an EC is an asset class that provides one of the best values when you compare it to other types of developments in the private residential market. Furthermore, Piermont Grand is considered to be an EC located in a very sought after residential location, close to the heart of Punggol.
Piermont Grand EC will be the only Executive Condominium launch in 2019. There are no more ECs slated to launch in the North-East Region as well as the entire Singapore for the whole of 2019. The existing ECs inventory in Singapore is also almost fully sold out. With such a strong demand and low inventory, Piermont Grand EC will be expected to perform very well in the sales launch.
City Developments Limited
Piermont Grand EC is brought to you by renowned developer, City Developments Limited (CDL), recognised both globally and in Singapore as a trusted and reputable real estate developer, with over 43,000 mass market and luxury homes developed across the world. Some of their latest successful developments under their belt are South Beach Residences at Beach Road and St. Regis Residences at Tanglin Road. CDL is listed on the Singapore Stock Exchange and is one of the largest companies in terms of market capitalization. They have a stellar track record, and have been in the real estate industry since 1963. CDL is not your ordinary run–of-the-mill real estate developer. Their vision to build innovative and quality spaces to house homes that everyone will desire.
---
Eligibility Conditions for New EC Purchase from Developer
In order to qualify for the purchase of an executive condominium in Singapore, you need to satisfy all of these 5 following conditions:
1) Family Nucleus
2) Citizenship
3) Age
4) Income Ceiling
5) Property Ownership
Family Nucleus
There are 4 schemes for you to apply for. You need to be able to form for at least 1 our of the 4 schemes.
Public Scheme
You need to form a family nucleus with any of the following:
– Spouse, and children (if any)
– Parents, and siblings (if any)
– Children under your legal custody, care and control (if widowed/divorced)
Fiance/Fiancee Scheme
You need to form a family nucleus with:
– Your spouse-to-be
*You need to submit your marriage certificate within 3 months of collecting your keys, to the developer.
Orphans Scheme
If you and your siblings are orphans and single (including divorced and widowed), you will be able to apply based on these conditions:
– All of the siblings that are single must be listed in the same application
– At least 1 of the deceased parents was a Singapore Citizen or Singapore Permanent Resident
Joint Singles Scheme
You and up to 3 other co-applicants can apply for an EC, so long as you are (all criteria must be fulfilled):
– Single (including divorced and widowed)
– Singapore Citizens
– At least 35 years old
– Applying jointly as co-applications
*CPF Housing Grant for singles is not applicable for an EC purchase.
Citizenship
You must fulfil the following citizenship conditions:
– Applicant must be a Singapore Citizen
– At least 1 other applicant must be a Singapore Citizen (SC) or Singapore Permanent Resident (SPR)
– For Joint Singles Scheme, all applicants must be Singapore Citizen
Age
You must fulfil the following age requirements:
– At least 21 years old
– At least 35 years old if applying under the Join Singles Scheme
Income Ceiling
You must not exceed the following income ceiling:
– Your monthly household income must not exceed $14,000.
Property Ownership
– You do not own other property overseas of locally, or have not disposed of any within the last 30 months
– You have not bought a new HDB/DBSS flat or EC, or received a CPF Housing Grant, more than once
Additional Requirements to Take Note
– If you have are a current owner of an HDB/DBSS flat, you need to have fulfilled the Minimum Occupation Period of 5 years before you can apply for an EC
– If you have are a current owner of an EC, you need to have fulfilled the Minimum Occupation Period of 5 years, as well as wait out 30 months from the date of your disposal of the current EC, before you can apply for another EC
Need more answers for your eligibility requirements? Go to the Official Page by HDB for the full information and more details.
To get a chance to stay in this beautiful executive condominium, reach us via the contact form at the bottom of this page and we will link you up with the developer's sales team.