Tampines St. 11, Singapore
For Sale
- Condominium, Residential
MOH Advisory Update: Showflat will be available for viewing, strictly on an appointment basis.
Book a showflat or virtual appointment by registering with us
(👇👇 Scroll to the bottom, or click here to register 👇👇)
Price Chart & Availability
Last Updated: 30th September 2023
We try our best to make sure that the pricing and availability table as updated as possible, however please note that the figures are not final.

| Project | Type | Min. Area (sqft) | Max. Area (sqft) | Lo Price ($) | Hi Price ($) | Availability |
| --- | --- | --- | --- | --- | --- | --- |
| TREASURE AT TAMPINES | 1 BR | - | - | - | - | 0 |
| TREASURE AT TAMPINES | 1 BR + S | - | - | - | - | 0 |
| TREASURE AT TAMPINES | 2 BR | - | - | - | - | 0 |
| TREASURE AT TAMPINES | 2 BR + S | - | - | - | - | 0 |
| TREASURE AT TAMPINES | 2 BR PREMIUM | - | - | - | - | 0 |
| TREASURE AT TAMPINES | 3 BR | - | - | - | - | 0 |
| TREASURE AT TAMPINES | 3 BR PREMIUM | - | - | - | - | 0 |
| TREASURE AT TAMPINES | 4 BR | - | - | - | - | 0 |
| TREASURE AT TAMPINES | 4 BR PREMIUM | - | - | - | - | 0 |
| TREASURE AT TAMPINES | 5 BR | - | - | - | - | 0 |
Project Details
| | |
| --- | --- |
| Project Name | Treasure at Tampines |
| Developer | Sim Lian (Treasure) Pte Ltd |
| Address | Tampines St 11 |
| District | D18 Tampines / Pasir Ris |
| Property Type | Condominium |
| Tenure | 99 Years Leasehold |
| Total Units | 2203 Residential |
| Unit Mix | 1 to 5 Bedroom Units with Various Layouts |
| Estimated TOP | 2021 |
| Land Area | Approx. 648,889 sqft |
| Plot Ratio | 2.8 (gross) |

---
Treasure at Tampines
Treasure at Tampines is an upcoming mega development, with full size landscaping, a total of 128 facilities spread across the entire development, and an incredible total of 2203 units with layouts all the way from 1 bedroom to 5 bedroom, all with high quality design and finishes.
This development is an eye catching one with all of its features, plus it is very close to the Tampines Regional Hub & Simei MRT.
The Treasure at Tampines is one of Singapore's biggest property launch of the year, spanning an incredible land size of 648,889 sqft. The development will be built over multiple property lots, along Tampines Street 11, and will comprise 2203 units. Treasure at Tampines will sit on the land site where the former Tampines Court once was. Some of the highlights of Treasure at Tampines include easy access to walking trails within the property, along with the sheer amount of facilities. The development will also allow resident members to interact with other members at the development's various social and lounging areas.
The Treasure at Tampines comes with a large development which has 128 facilities to use, which speaks for itself. Dwellers here get to engage in their own leisure activities without feeling enclosed as compared to a small-sized development.
Major facilities available at the Treasure at Tampines include swimming pools, fitness stations, gyms, playgrounds, wellness stations and more.
It's located near several MRT stations including Simei Station and Tampines Station. As transportation becomes increasingly important for Singaporeans living in urban centers, we expect it to grow even faster than previously forecasted.
5 Reasons Why You Should Buy Treasure at Tampines
1. Right Entry Price
You can buy a 3-bedroom premium unit at Treasure at Tampines for under $1.6 million. This makes it one of the more affordable new launch condominiums you can get in Singapore.
2. Connectivity
Tampines is easily connected to many important places in the East of Singapore. It is situated near to the Tampines MRT station, making it extremely accessible to other parts of Singapore via public transport too. The nearby Tampines Regional Hub has been an existing regional centre since the 90s, and will eventually be a commercial cluster by 2030.
3. Tenantability
With many commercial areas nearby, such as Changi Business Park, Changi Airport, Paya Lebar and the future Aviation Park, this development will definitely attract tenants for its location. Further with such a wide array of facilities, tenants will likely be more impressed with Treasure at Tampines than its surrounding competition. Investors will find Treasure at Tampines a great choice for a healthy and stable rental yield.
4. Matured Estate
Tampines is a matured estate that is known for having a good mix of residential developments, shops and markets, eating places, and retail and commercial developments. With so much amenities available, it's no wonder Tampines is a popular estate that is able to hold its value.
5. Amenities
There are numerous amenities available at Treasure at Tampines. Residents have access to a variety of recreational facilities like swimming pools, jogging tracks, children play area, gymnasium, sauna and steam room. There are also community lounges where residents can relax and meet up with friends.
How Will It Feel Like to Stay in Treasure at Tampines?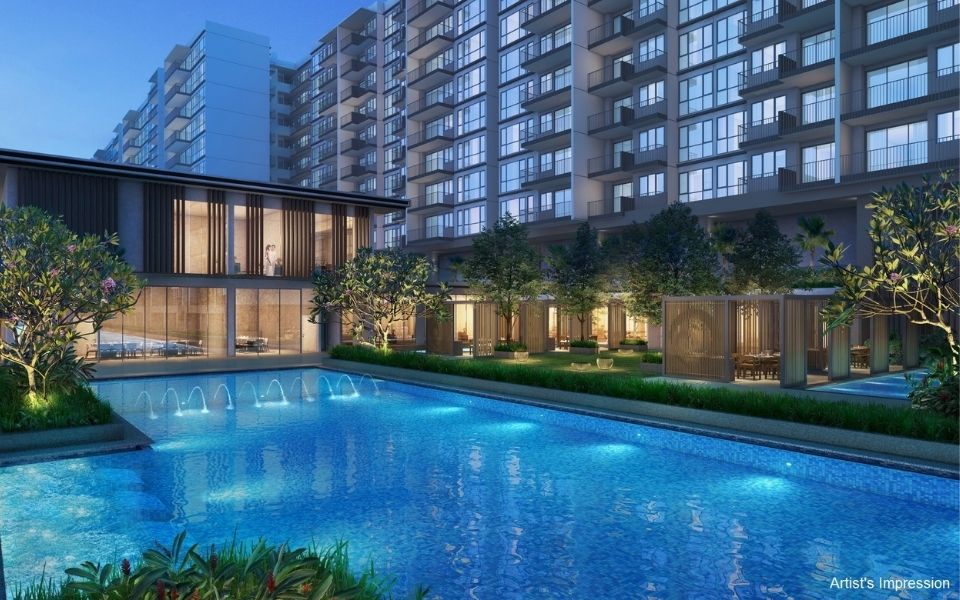 If you're looking for a place that is large and well equipped with state of the art facilities, then Treasure at Tampines could be the perfect fit for you. With a site area of 648,889 sqft, Treasure at Tampines is incredibly huge. That's almost the size of 15 football fields! Your whole family will have plenty of areas to explore without even having to leave your compound.
This condominium is so large that it could well be another community by itself. With plenty of water features and beautiful landscaping, Treasure at Tampines will indeed be a nice place for your family to come home to after a long day at work or school.
Nearby Amenities
Treasure at Tampines is just walking distance to the Tampines Round Market and Food Centre and Eastpoint Mall. One more street down, you will find the most bustling and happening shopping malls in Tampines, such as Tampines Mall, Tampines One and Century Square.
Our Tampines Hub is also located nearby if you want to engage with more sporting activities with your friends and family.
Just minutes drive away, you will be at Tampines North, where you will be able to find IKEA, Giant Hypermart and COURTS Megastore. Head up the TPE and you will reach Changi Jewel and the Airport in no time.
Treasure at Tampines Location Map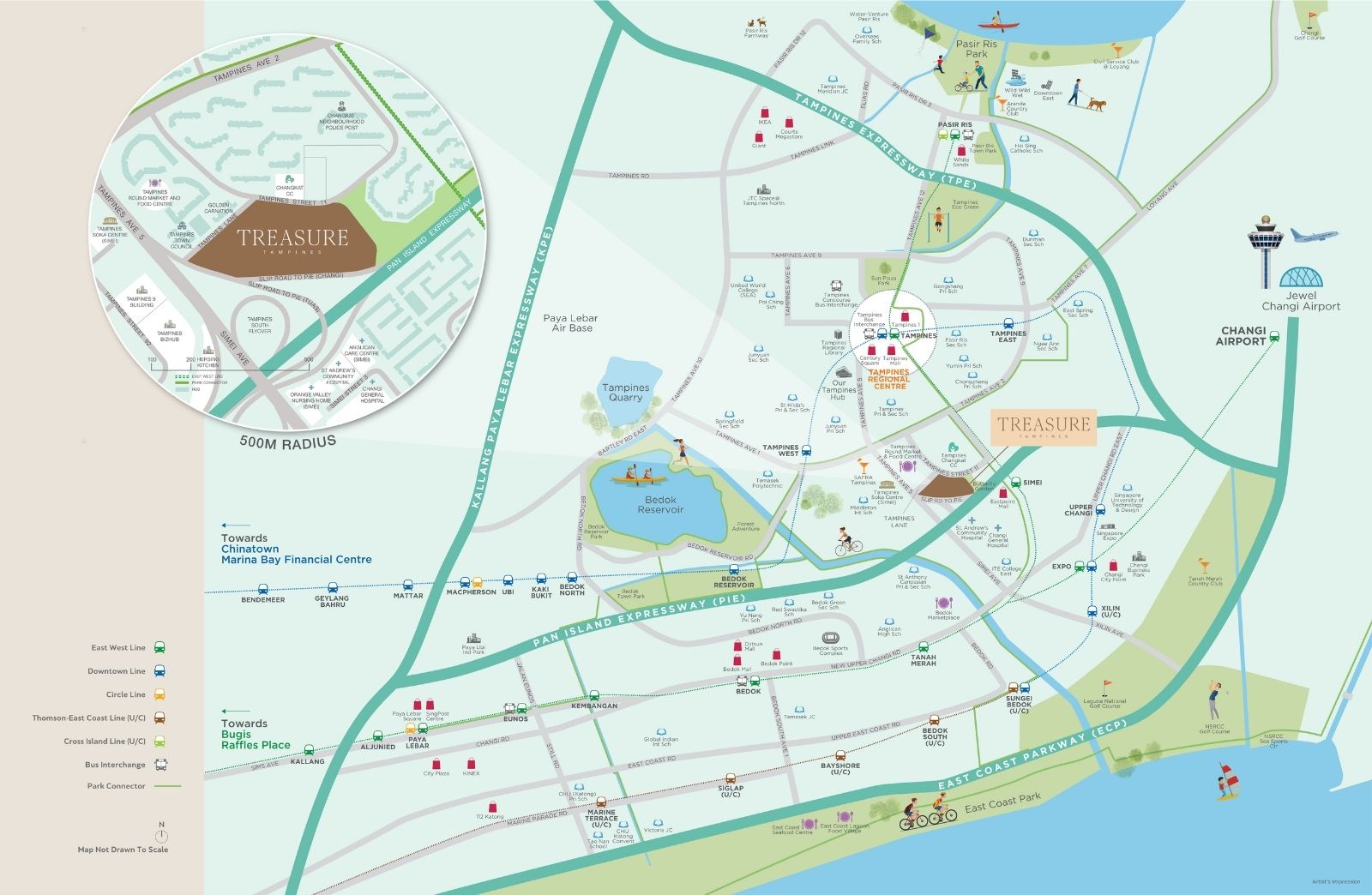 Types of Available Units
Treasure at Tampines has a total of 2203 units all the way from 1 bedroom to 5 bedroom units to ensure that all kinds of family profiles are able to find their perfect size and configuration. The unit mix is fairly evenly spread out across all the different types.
The 1 and 2 bedroom units are ideal for singles, couples and even new property investors due to the low quantum, and the larger units are suited more towards larger families. The smallest 1 bedroom unit measures around 463 sqft, while the largest 5 bedroom unit goes up to 1722 sqft. This means that whether you're looking for a spacious living space for yourself or a bigger living space for your entire family, you'll be able to find something suitable here.
Available Unit Types:
| | | |
| --- | --- | --- |
| Type | No. of Units | Area (excl PH void) |
| 1 Bedroom | 187 | 463 sqft |
| 1 Bedroom + Study | 44 | 484 sqft |
| 2 Bedroom | 265 | 581 – 614 sqft |
| 2 Bedroom + Study | 313 | 678 sqft |
| 2 Bedroom Premium | 160 | 657 – 678 sqft |
| 3 Bedroom | 417 | 818 – 947 sqft |
| 3 Bedroom Premium | 344 | 1012 – 1087 sqft |
| 4 Bedroom | 176 | 1238 – 1270 sqft |
| 4 Bedroom Premium | 187 | 1270 – 1367 sqft |
| 5 Bedroom | 110 | 1668 – 1722 sqft |
Facilities


13 pools

24 water facilities

9 function rooms

20 fitness facilities

24-hour access gym

Pets zone

Rock climbing wall

Skating lane

and more… making up a total of 128 premium facilities…
Treasure at Tampines Floor Plans
The floor plans presented are only a selection of the entire library.
Please note that floor plans may be subjected to changes.
1 Bedroom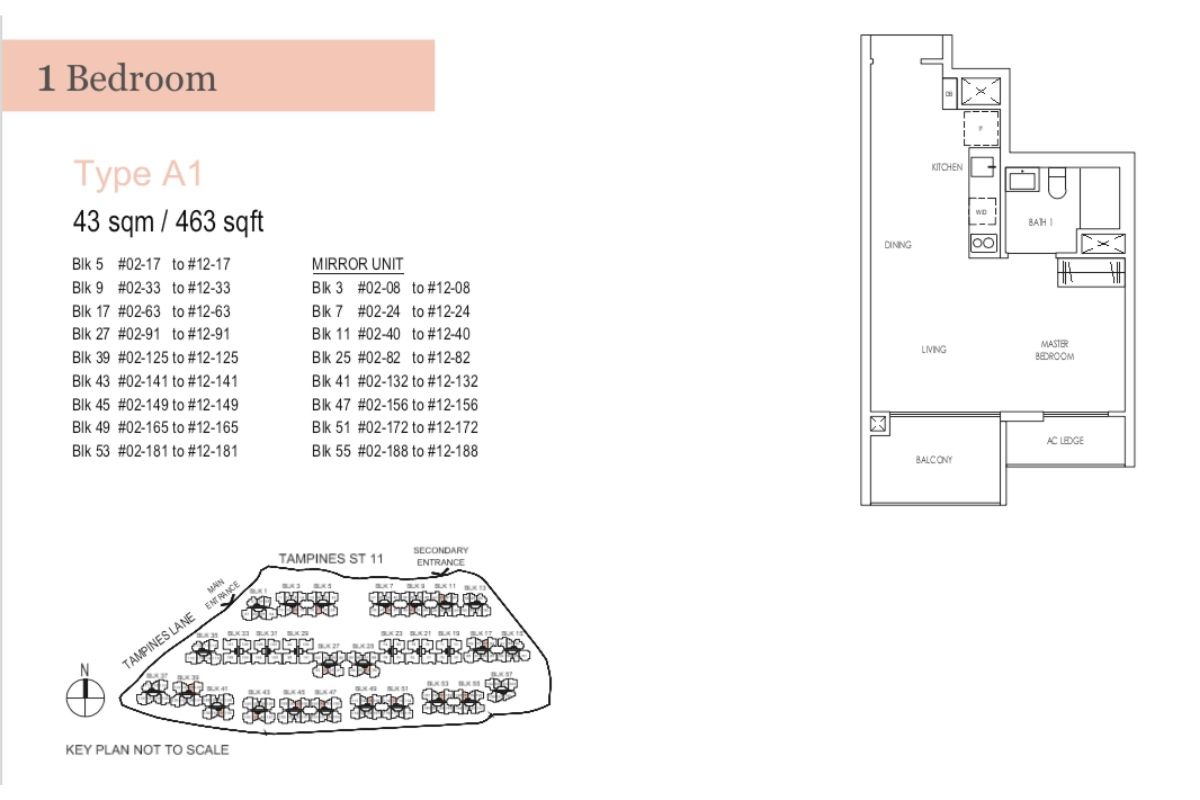 1 Bedroom + Study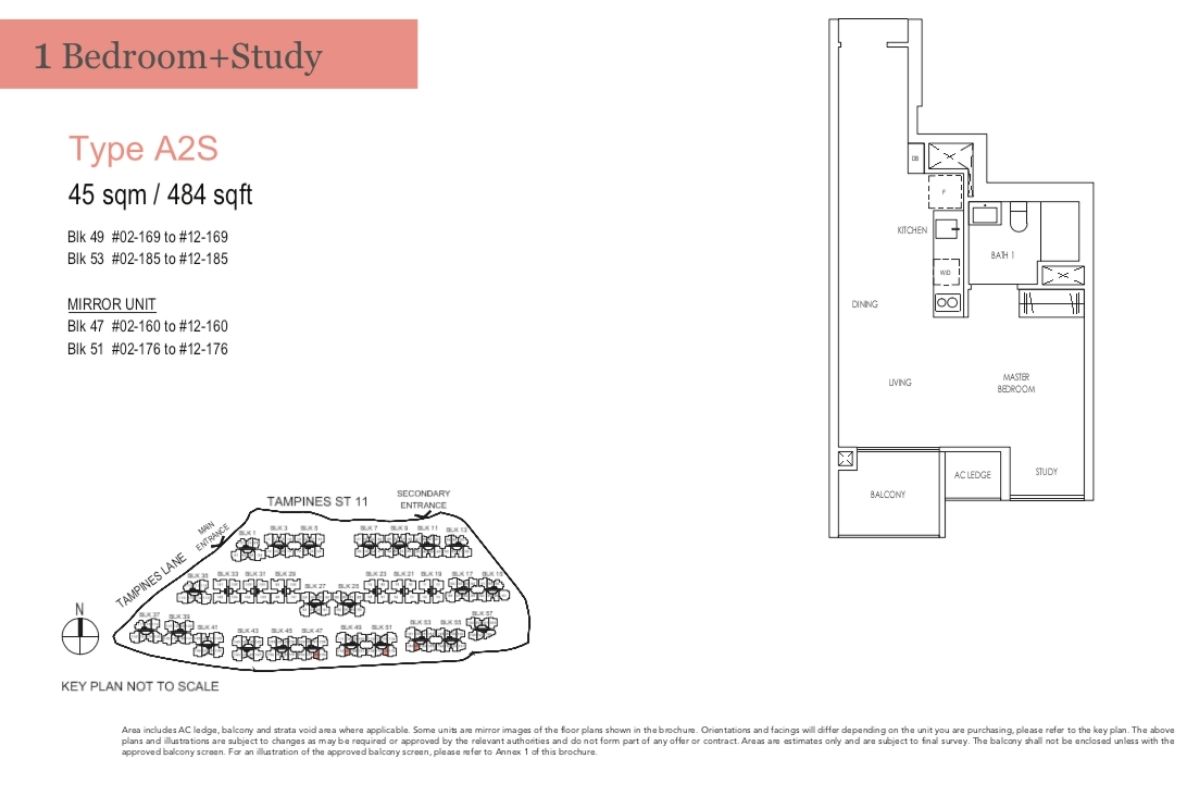 2 Bedroom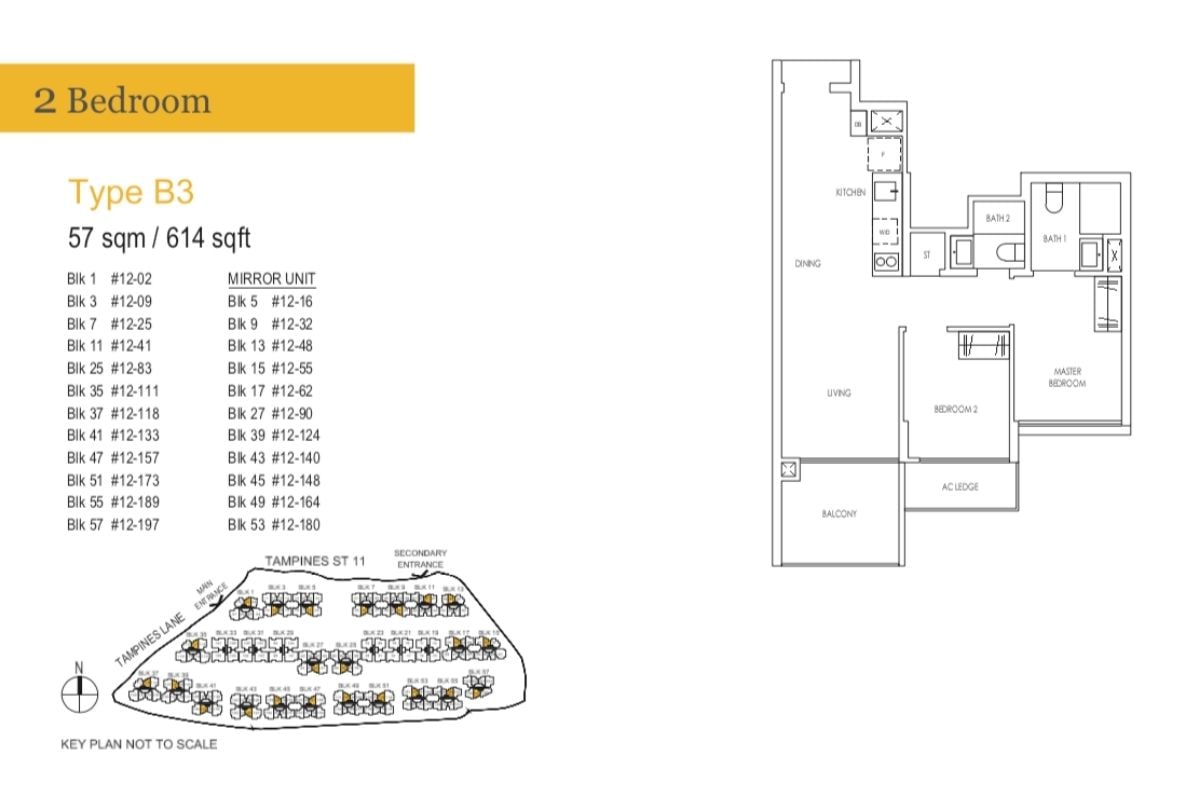 2 Bedroom + Study
2 Bedroom Premium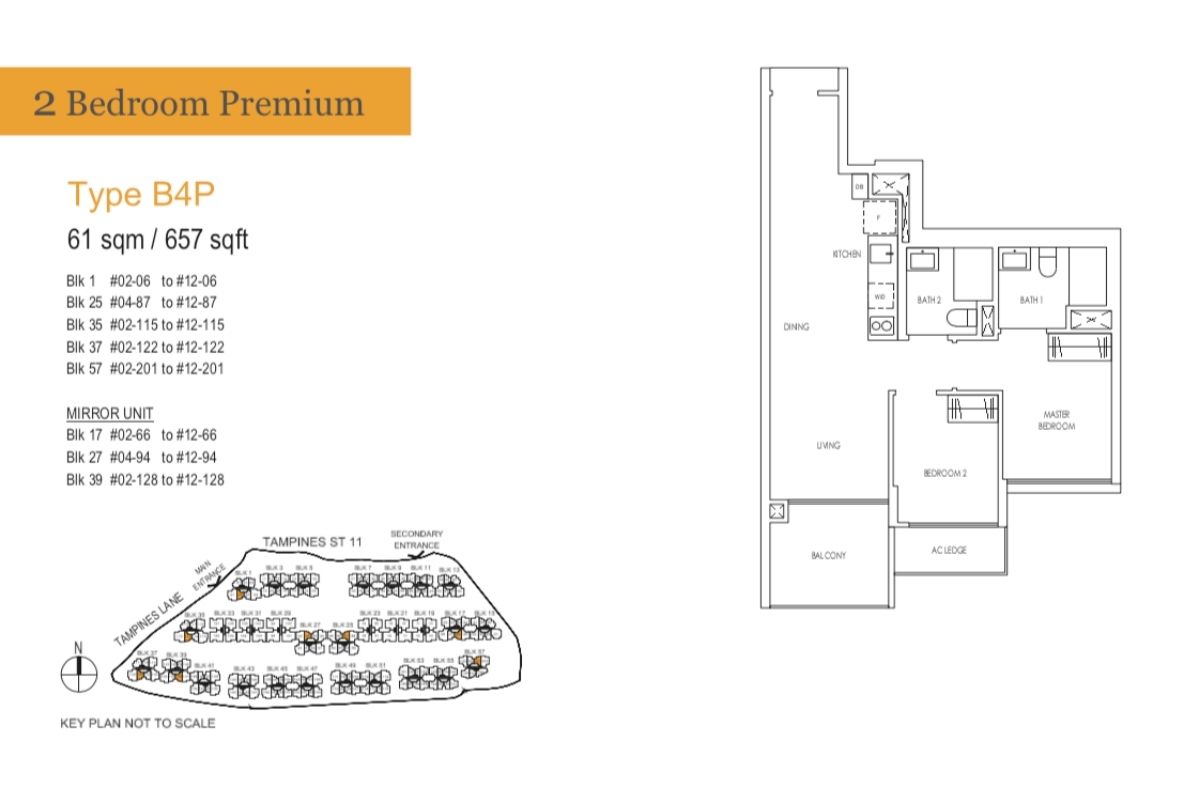 3 Bedroom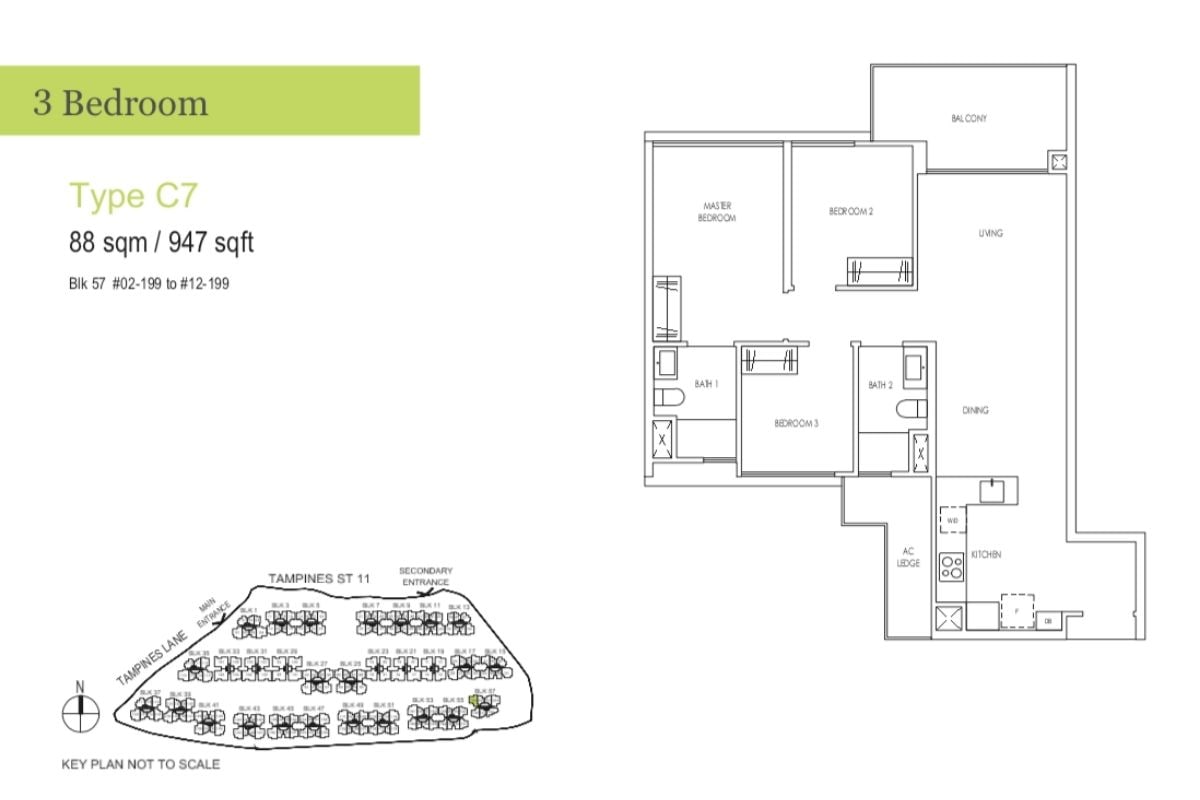 3 Bedroom Premium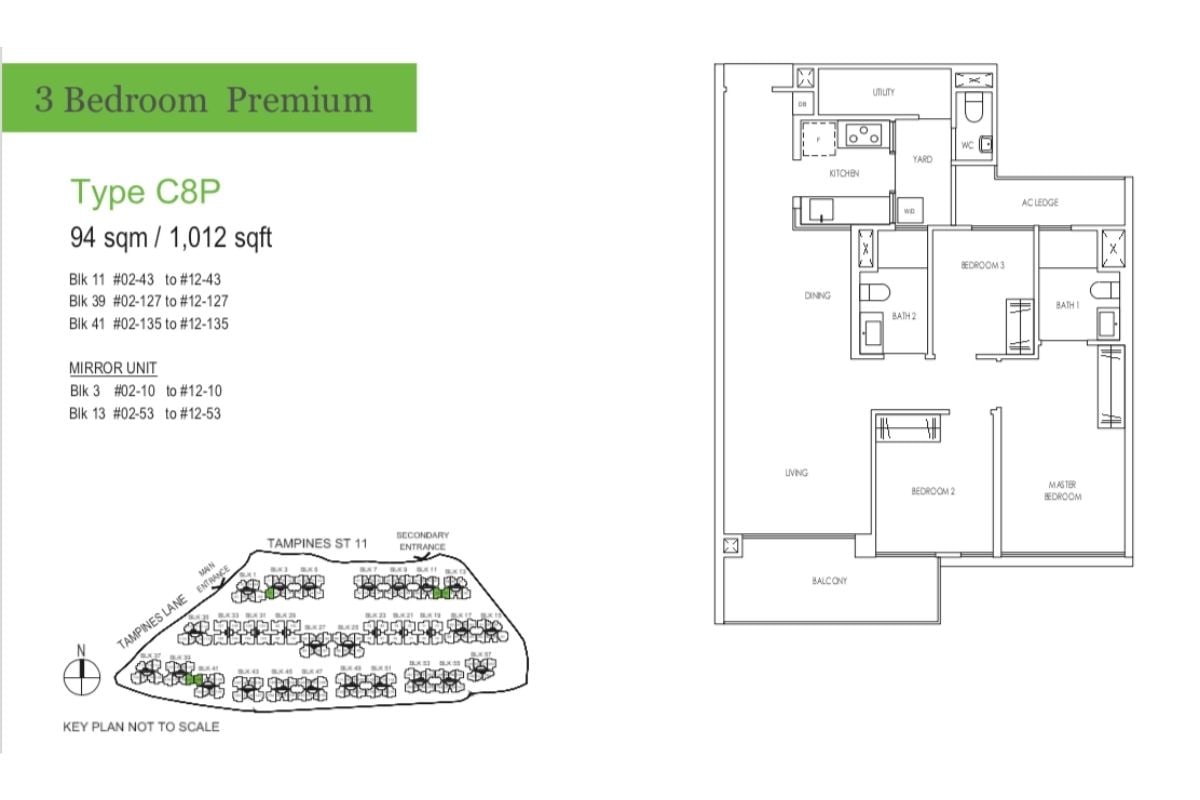 4 Bedroom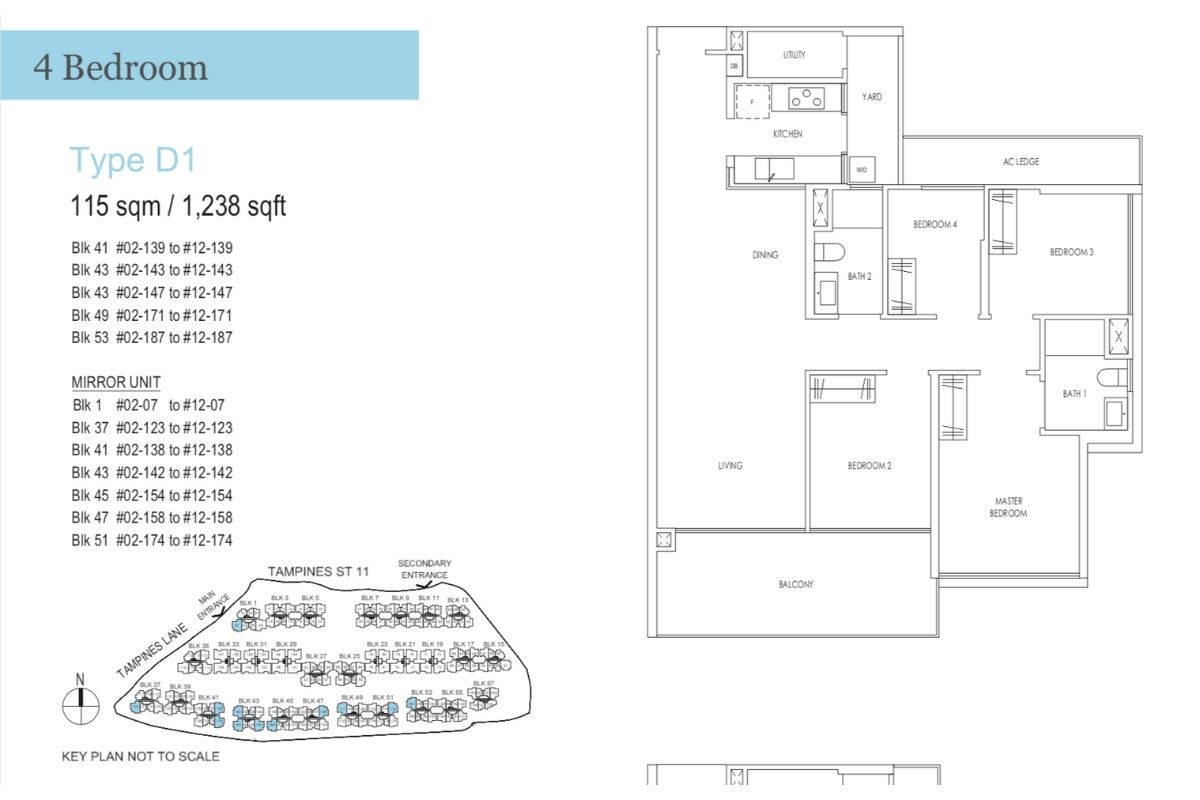 4 Bedroom Premium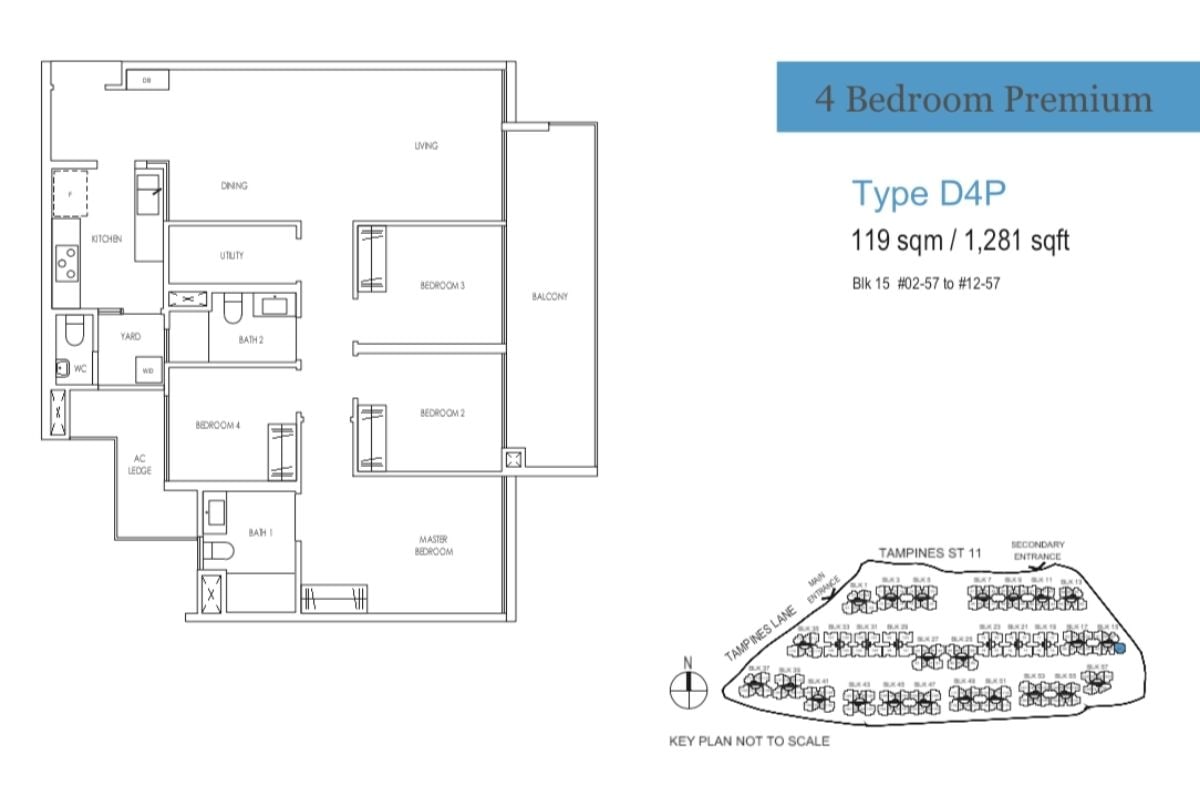 5 Bedroom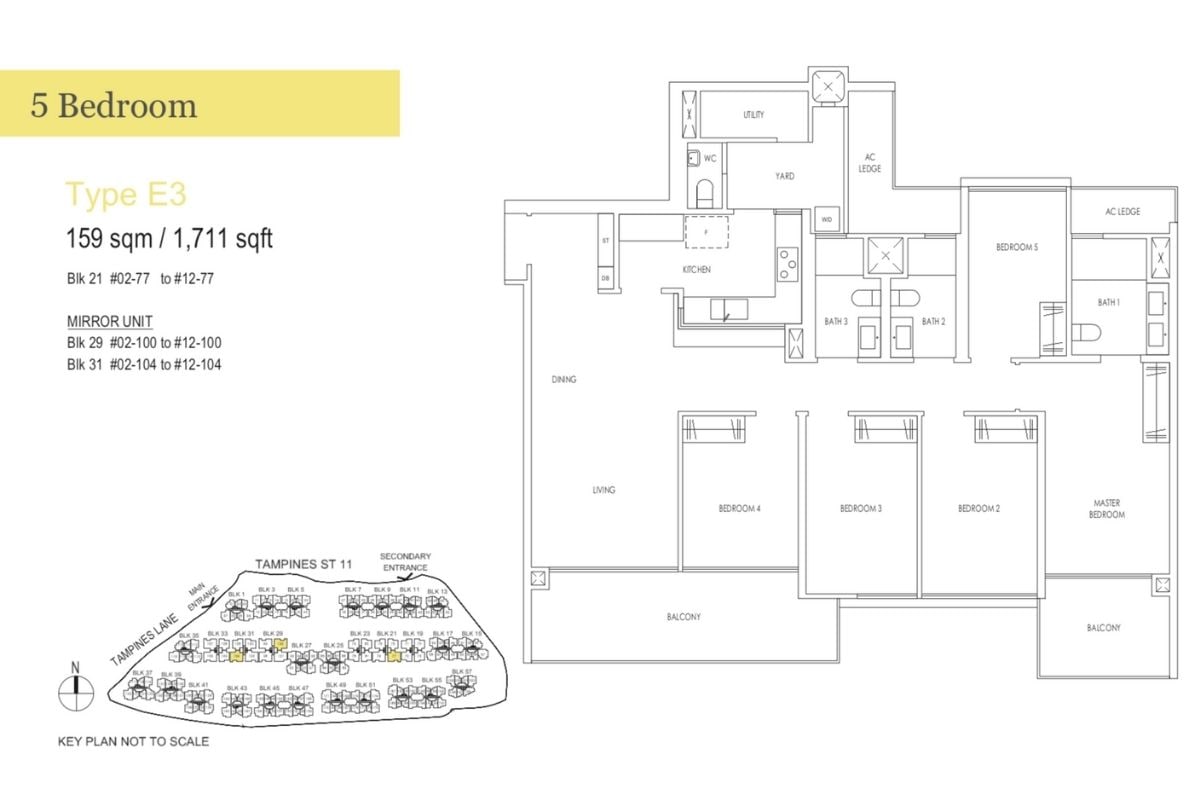 These are only a few of the layout variations. A complete floor plan booklet will be provided to you during your showflat visit.
Treasure at Tampines Site Plan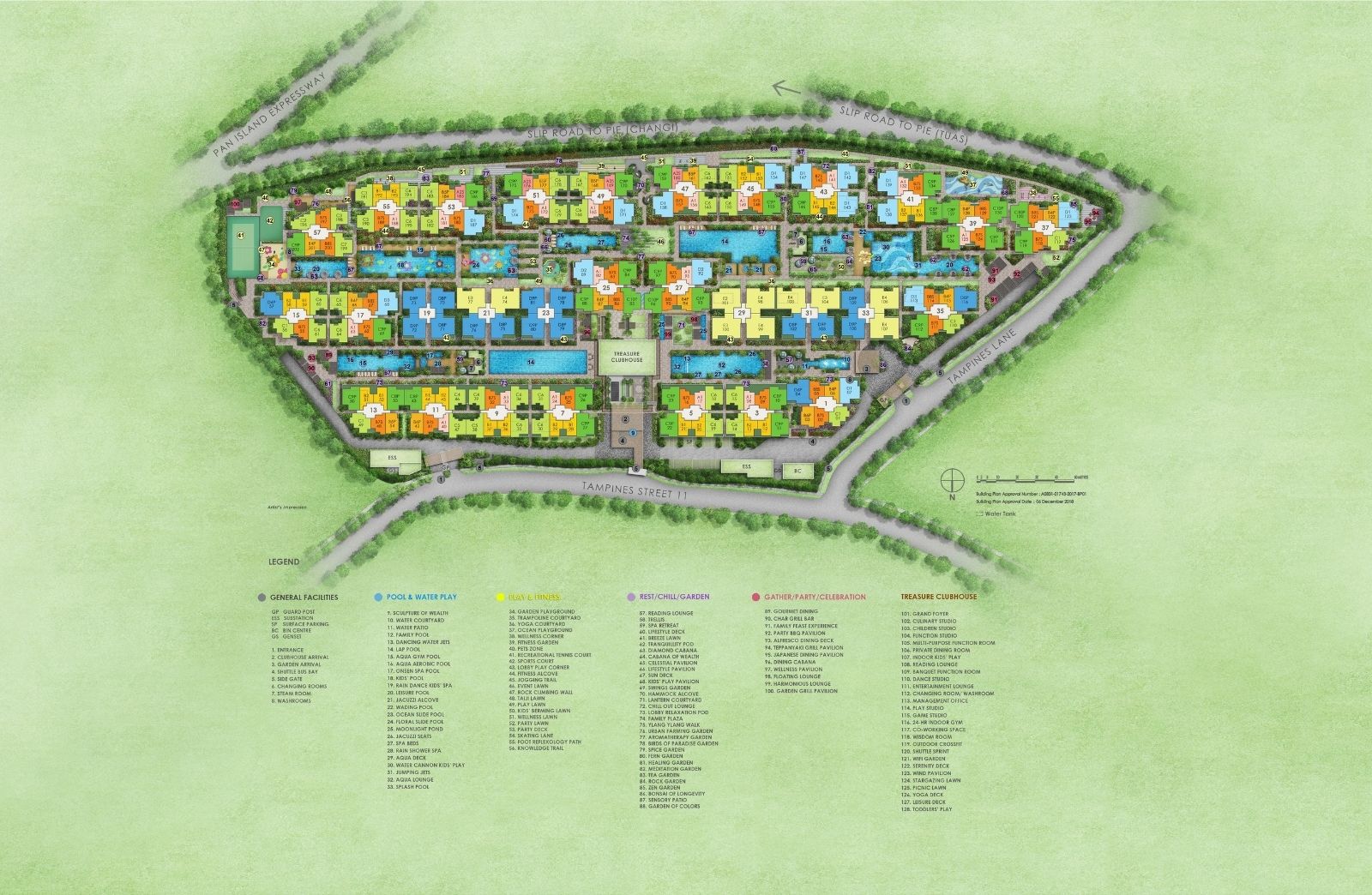 About the Developer
Treasure at Tampines is developed by Sim Lian, a property developer with good track records, with past projects such as Hillion Residences, Clover by the Park, The Trilliant at Tampines, A Treasure Trove and Centrale 8. They have been around for over 40 years and have over 20 projects under their belt. They are by no means new in property development.
Is Treasure at Tampines Worth Buying?
Despite having over 2000 units, Treasure at Tampines will have no problem having its entire inventory sold. Treasure at Tampines is one of the greatest value buy of the year. Firstly, Tampines has always known to be an ideal residential location partly due to it being a matured estate. The district is also well connected to many important areas at the East of Singapore.
There are 3 MRT lines that are nearby, the East-West Line, Downtown Line and the future Cross Island Line, making accessibility to other areas of Singapore effortless and uncomplicated.
Treasure at Tampines is priced for great value, and it's in fact considered an irresistible pricing if you take a look at other comparable new launches in the market today.
The development also stands out uniquely at it is touted as one of the largest condominium projects in Singapore, with an impressive array of facilities. Maintenance fees are also expected to be very reasonable from such a large development.
The units themselves are very well-designed and functional, having a general north-south orientation which maximizes wind flow, making it a delightful pleasure for daily living.
Additional Requirements to Take Note
Treasure at Tampines Showflat Location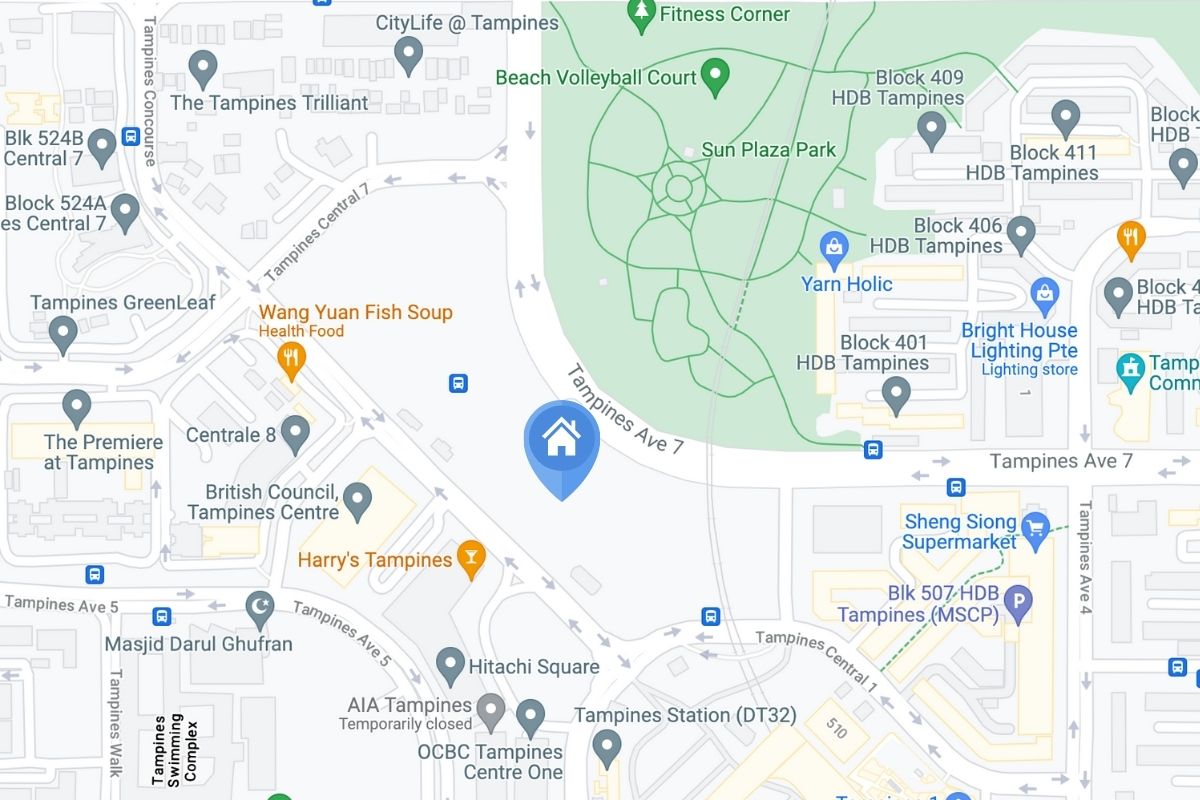 Driving Directions to the Showflat
Showflat Address: Enter by Tampines Ave 7
Driving Directions to the Showflat
The showflat is NOT located at the actual site.
Starting from Tampines Central 3, turn left onto Tampines Ave 7

You will see the showflat entrance on the left in a few metres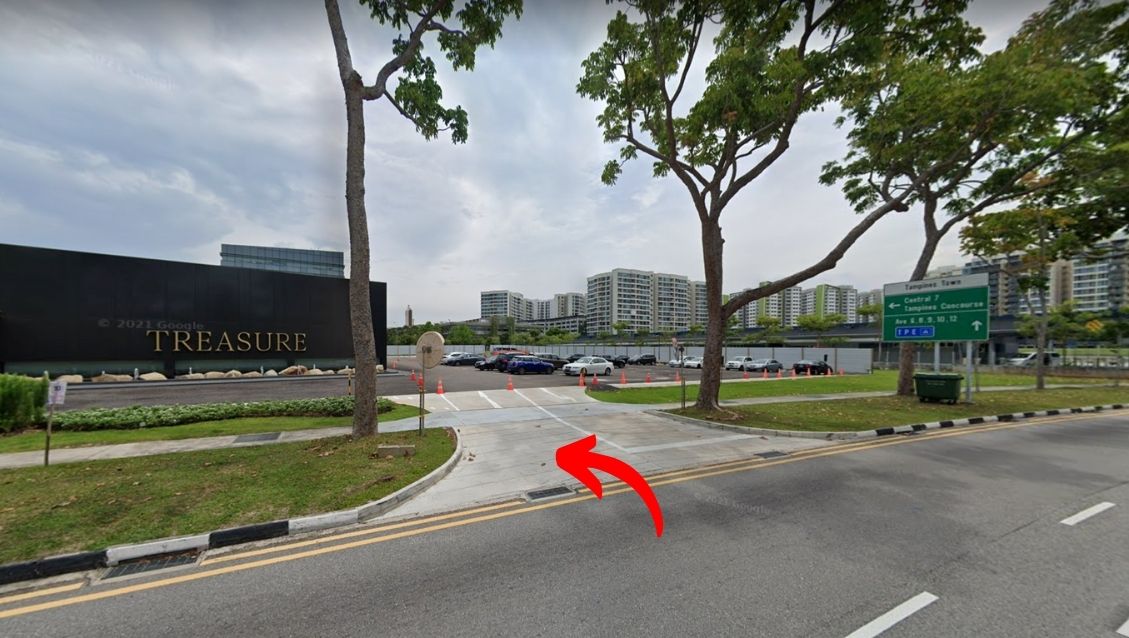 Click here to load Google Maps location for Treasure at Tampines on your phone
For showflat booking and sales enquiries, reach us via the contact form at the bottom of this page and we will link you up with the developer's sales team.
Book a Showflat Appointment