De Souza Ave, Singapore
For Sale
- Condominium, Residential
MOH Advisory Update: Showflat will be available for viewing, strictly on an appointment basis.
Book a showflat or virtual appointment by registering with us
(👇👇 Scroll to the bottom, or click here to register 👇👇)
Price Chart & Availability
Last Updated: 10th December 2023
We try our best to make sure that the pricing and availability table as updated as possible, however please note that the figures are not final.

| Project | Type | Min. Area (sqft) | Max. Area (sqft) | Lo Price ($) | Hi Price ($) | Availability |
| --- | --- | --- | --- | --- | --- | --- |
| VERDALE | 1 BR | - | - | - | - | 0 |
| VERDALE | 1 BR + S | - | - | - | - | 0 |
| VERDALE | 2 BR | - | - | - | - | 0 |
| VERDALE | 2 BR DELUXE | - | - | - | - | 0 |
| VERDALE | 3 BR | - | - | - | - | 0 |
| VERDALE | 3 BR DELUXE | - | - | - | - | 0 |
| VERDALE | 4 BR | - | - | - | - | 0 |
| VERDALE | 4 BR PH + FAMILY | - | - | - | - | 0 |
| VERDALE | 5 BR PH + STUDY | - | - | - | - | 0 |
Project Details
| | |
| --- | --- |
| Project Name | Verdale |
| Developer | C&C (JJK) Pte Ltd |
| Address | De Souza Avenue |
| District | D21 Upper Bukit Timah, Clementi Park, Ulu Pandan |
| Property Type | Condominium |
| Tenure | 99 Years Leasehold |
| Total Units | 258 |
| Unit Mix | 1 to 5 Bedroom Units with Various Layouts |
| Estimated TOP | Sep 2024 |
| Land Area | Approx. 153,224 sqft |
| Plot Ratio | 2.8 (gross) |

---
Verdale
Verdale is a new 99 years leasehold condominium project that is launching in 2019. It is situated in a landed enclave amidst the lush greenery of District 21, Upper Bukit Timah, along De Souza Avenue. This is a sought after area in Singapore that is close to the city, yet offers residents a quiet and tranquil environment away from the hustle and bustle. With only a short drive to the CBD, this is also close enough to many schools, entertainment and recreational facilities. Residents can enjoy the convenience of being within walking distance to the popular Bukit Timah Shopping Centre, Bukit Timah Plaza and the future integrated transport hub located close by at Jalan Anak Bukit. Beauty World MRT Station is the nearest one, which is part of the Downtown MRT Line that opened in late 2015 is around a 1.1km walk away from Verdale, which should take you around 13 minutes.
The estimated TOP for Verdale is September 2024. Buyers have a total of 258 units to choose from, with varying unit mixes from 1 to 5 bedroom layouts. Verdale is jointly developed by CSC Land Group and China Overseas Holdings Limited (Singapore).
The Verdale Condo development has been designed with high quality materials and finishes to ensure a comfortable and luxurious living environment. This can be seen in the architect's 3d impressions and the construction specifications. The units are designed to be spacious and highly functional, and have been built using the highest grade materials.
Being located near Bukit Timah Nature reserve and Bukit Batok Nature Park, it is an ideal place to live if you love being surrounded by nature. Furthermore, upcoming transformations include the rail corridor of 24km that spans from Woodlands to Tanjong Pagar, as well as the Bukit Timah-Rochor Green Corridor. These will transform the landscape in the area into one of the most attractive places for people to live.
Here's 5 Reasons Why You Should Consider Buying Verdale
1. Low Density Environment
Verdale has a land size of 153,224 sqft and a plot ratio of 1.4. You will enjoy an environment with low density, which gives you a sense of space in the ever crowded Singapore. Furthermore, nearby land sites are also having similar 1.4 plot ratios, so the entire neighbourhood is generally no higher than 5-6 storeys high.
2. Potential Future Upside
Verdale is strategically placed in an area that has many upcoming future developments and transformations. Less than 3km away is The Grandstand, which will turn into a residential plot, potentially increasing land sale prices in the area. And within the vicinity of Verdale itself its a few pieces of land also for possible future developments. The biggest one of all will be the confirmed construction of an integrated transport hub located at Jalan Anak Bukit, which is only slightly over 1km away from Verdale.
3. Located Near Top Schools & Education Clusters
It is very widely known that Bukit Timah houses some of the very top schools in Singapore. Your potential tenants or even your own family will use this is a strong consideration point for having Verdale as a home. Along Bukit Timah, you will find schools like Hwa Chong Institution, Methodist Girls' School, Raffles Girls' Primary School, Nanyang Primary School and Pei Hwa Presbyterian Primary School. Tertiary institutions nearby include Ngee Ann Polytechnic, Singapore Institute of Management (SIM), Singapore University of Social Sciences (SUSS) and National University of Singapore (NUS).
4. Upcoming Integrated Transport Hub at Jalan Anak Bukit
Verdale is strategically placed close to the future mixed-use development and integrated transport hub at Jalan Anak Bukit, making it easy for commuters to get to and around town without their own personal transport. This integrated hub aims to further urbanize the Beauty World area by improving the public transport connectivity. There will also be commercial areas within the first 3 storeys of the development, sprucing up the commercial activities within Beauty World.
5. Close Proximity to the City
Verdale is positioned very close to Bukit Timah Road, a long, straight road that links you to the city within minutes. You can easily access many central areas of Singapore such as Orchard Road, Marina Bay and the CBD. In addition, De Souza Avenue is connected to the road Jalan Jurong Kechil, which links you right away to PIE, giving you quick access to the East and West areas of Singapore and even areas in the North via the connecting expressways. Residents in Verdale will be able to enjoy the convenience of traveling while still staying in a peaceful and quiet environment.
How Will It Feel Like to Stay in Verdale?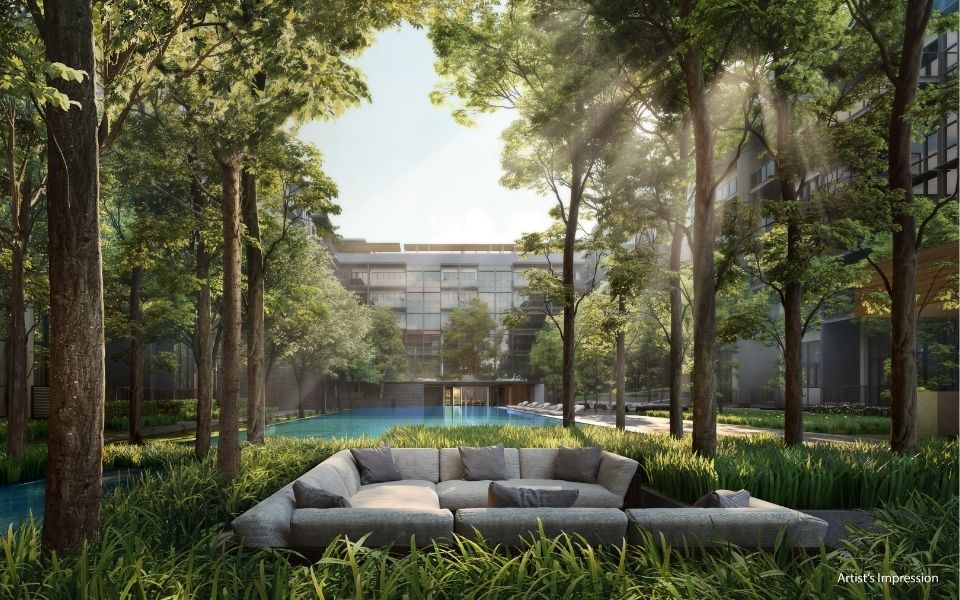 The units in Verdale are spacious and feature large balconies that overlook lush green spaces and beautiful landscaping. These open spaces offer residents a great place to relax after a busy day. They are also ideal places where families can spend time together.
Also, staying in a low density environment just gives you more breathing space, especially when you are trying to wind down from a busy day at work. Since buildings in the development and surrounding it are generally 5 to 6 floors at most, you can expect your view out the window to have wide open skies without tall buildings towering over you.
Nearby Amenities
With Beauty World just around the corner, you have access to plenty of F&Bs, supermarkets, shops and entertainment venues. You can easily dine out with your family, do your groceries shopping and hang out with your friends without having to travel far.
Nearby Supermarkets
Giant Supermarket at Beauty World Centre
U Stars Supermarket @ 18
FairPrice Finest at Bukit Timah Plaza
Nearby Wet Markets
Nearby Hawker Centres
Nearby Shopping Malls
Bukit Timah Shopping Centre
Beauty World Plaza
Beauty World Centre
Bukit Timah Plaza
Future Development at Jalan Anak Bukit
F&B Areas
Cheong Chin Nam Road
Chun Tin Road
Lor Kilat
Verdale Location Map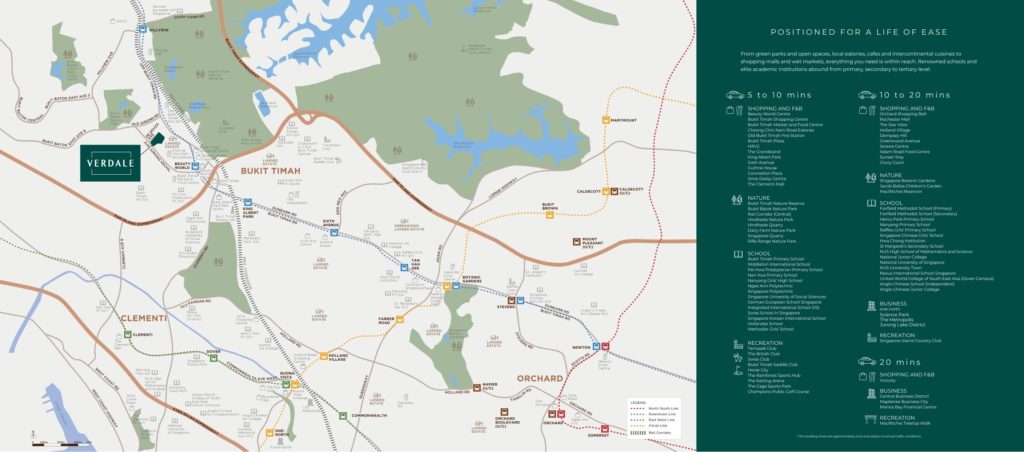 Showflat Photos








Types of Available Units
Verdale has a total of 258 units, with a great variety of layouts from 1 to 5 bedrooms, catering to a wide mix of buyer profiles from small to large sized families.
Available Unit Types:
| | | |
| --- | --- | --- |
| Type | No. of Units | Area (excl PH void) |
| 1 Bedroom | 18 | 463 – 474 sqft |
| 1 Bedroom + Study | 5 | 560 – 570 sqft |
| 2 Bedroom | 33 | 614 sqft |
| 2 Bedroom Deluxe | 114 | 700 – 753 sqft |
| 3 Bedroom | 15 | 947 sqft |
| 3 Bedroom Deluxe | 39 | 1001 – 1033 sqft |
| 4 Bedroom | 22 | 1410 sqft |
| 4 Bedroom PH + Family | 9 | 1518 – 1528 sqft |
| 5 Bedroom PH + Study | 3 | 1873 sqft |
Facilities



Fitness Corner
Gym
Aqua Gym
Open Lawn
Outdoor Lounge
50m Lap Pool
Steam Room
Spa Pavilion
Massage Pavilion
Courtyard
Outdoor Waterfall Dining
Screening Room
Forest Bathing Pods
Yoga Meditation Pod

and more…
Verdale Floor Plans
The floor plans presented are only a selection of the entire library.
Please note that floor plans may be subjected to changes.
2 Bedroom Deluxe – Type B6
3 Bedroom Deluxe – Type C5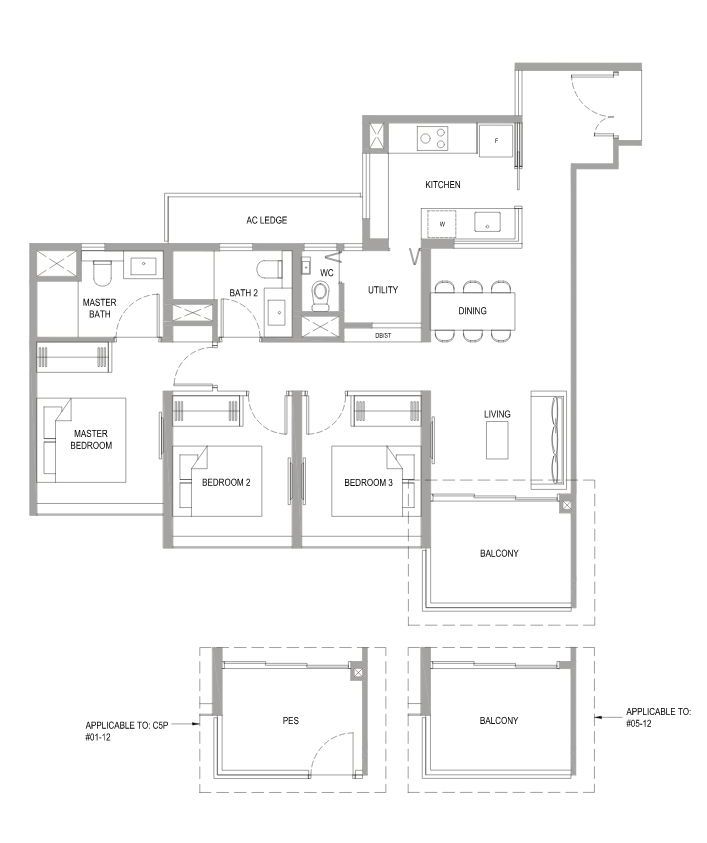 4 Bedroom – Type D1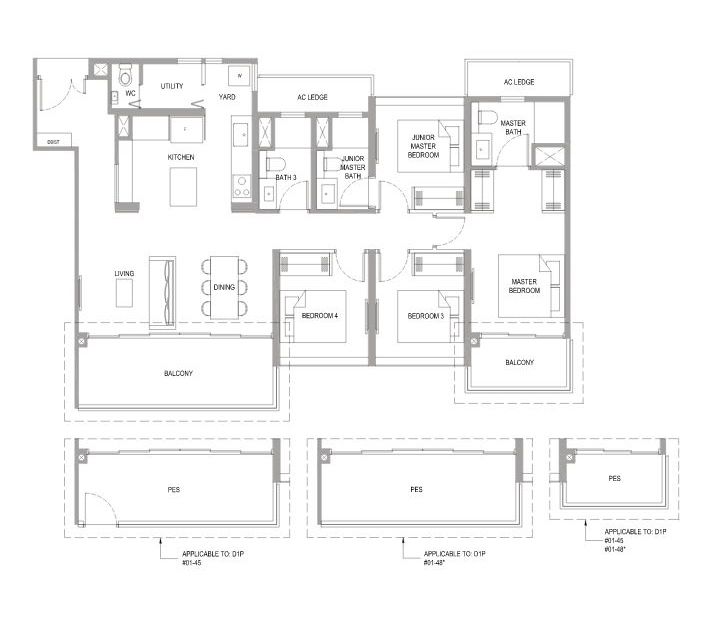 These are only a few of the layout variations. A complete floor plan booklet will be provided to you during your showflat visit.
Verdale Site Plan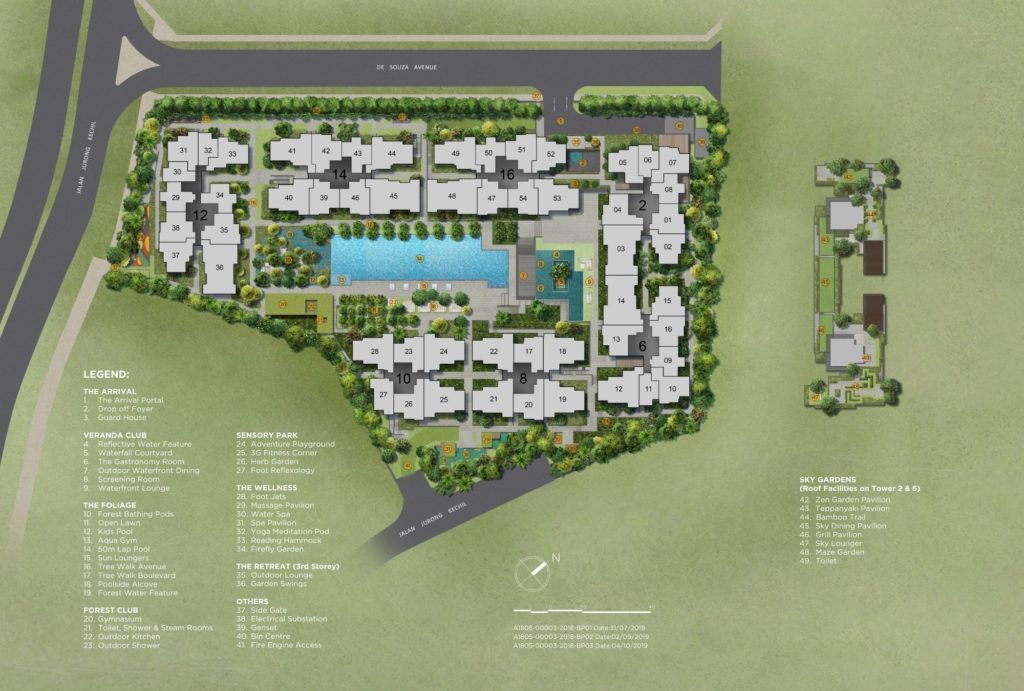 Land Sales & Estimated Breakeven Cost
The land parcel for Verdale was purchased at a price of $215 million through the Government Land Sales (GLS) Programme. With a land size of, this translates to about $501 psf ppr.
About the Developer
Verdale is jointly developed by CSC Land Group and China Overseas Holdings Limited. For CSC Land Group, this is their third project in Singapore as a developer, the other two being Twin Vew and Parc Greenwich. Despite Verdale being just the third project in their portfolio, they have immense experience in the construction and real estate industry in Singapore. CSC Land Group definitely not green in this space at all. They are in fact a subsidiary of China Construction (South Pacific), a construction firm known to be innovative in building and construction technology, and produce countless building awards with BCA (Building and Construction Authority) Singapore, construction awards with HDB (Housing and Development Board) and safety awards with LTA (Land Transport Authority).
Is Verdale Worth Buying?
With its prime location, Verdale is bound to attract a lot of buyers who want to be accessible to the city centre without having to live in it. If you are looking for a place to call home, Verdale may be an ideal choice as it offers a unique combination of spacious living spaces, large balconies and a peaceful low density environment. Plenty of thought and effort has been put by the developer in creating a modern and contemporary feel to a nature-inspired project. They have done a good job designing the entire development to blend seamlessly between nature and architecture.
If you are looking for a good investment opportunity, Verdale offers a fair entry price in this area. At around just 1+ km away is Mayfair Modern, with sale prices coming in at around $2.2k PSF for their 1 bedroom units. This is around $400 PSF or 18% pricier than a comparable unit at Verdale as of writing. The huge price gap is highly influenced by Mayfair Modern being in the Bukit Timah District.
Also, with the upcoming integrated transport hub at Jalan Anak Bukit, interconnectivity in this area will be heavily enhanced especially for public transport commuters. Not to mention, the potential price increases it could bring to developments in this area.
Additional Requirements to Take Note
Verdale Showflat Location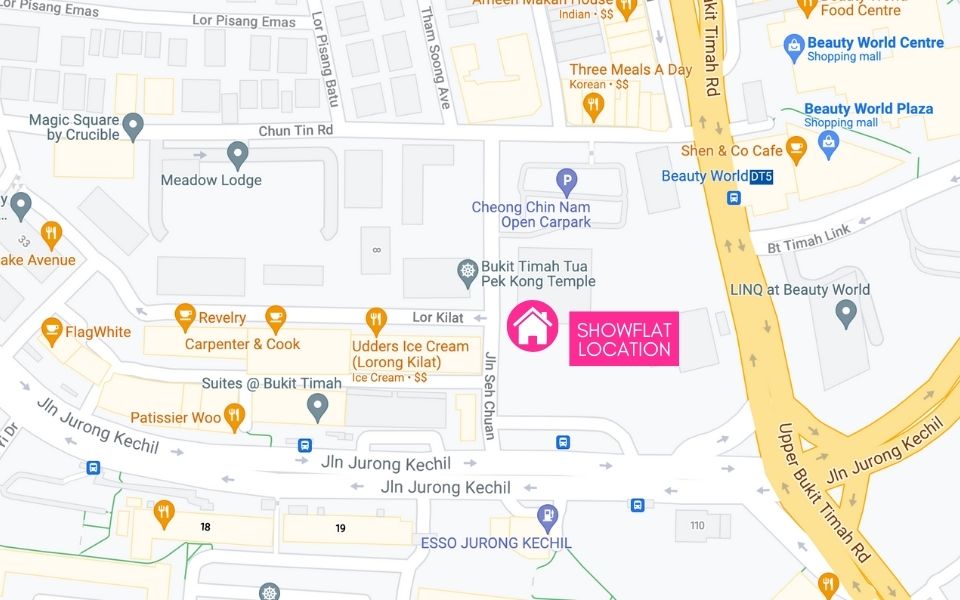 Driving Directions to the Showflat
Showflat Address: Enter by Jln Seh Chuan
Driving Directions to the Showflat
The showflat is NOT located at the actual site.
Option 1: Enter from Chun Tin Road, turn into Jln Seh Chuan, showflat will be on the left

Option 2: Enter from Jln Jurong Kechil, turn into Jln Seh Chuan, showflat will be on the right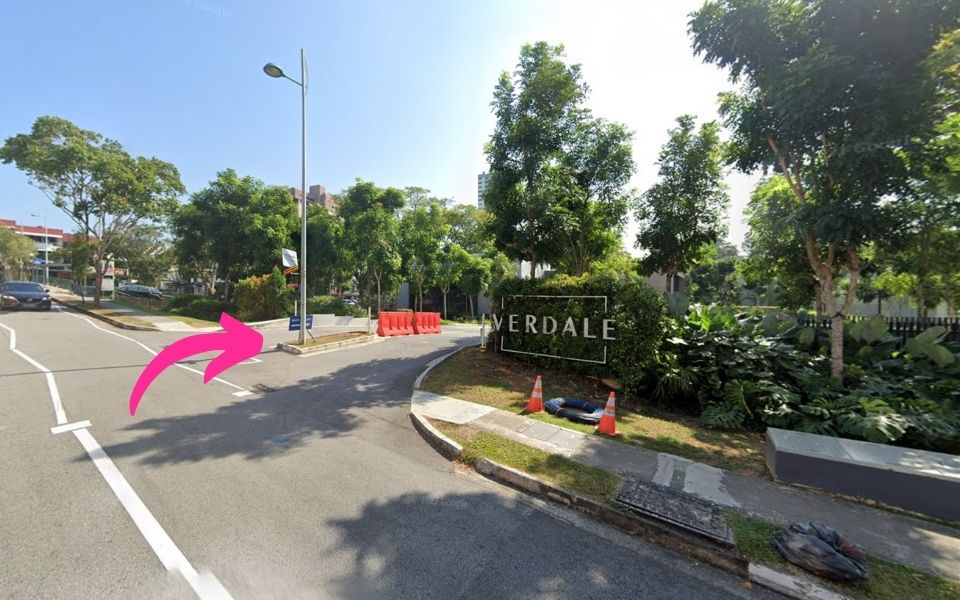 Click here to load Google Maps showflat location for Verdale on your phone
For showflat booking and sales enquiries, reach us via the contact form at the bottom of this page and we will link you up with the developer's sales team.
Book a Showflat Appointment